Hasn't this been a journey already! Lucky for Meg, it has been a smooth one. Love and gratitude to everyone on tripawds who has been posting on my forum threads, and talking to me in the live chat when I was waiting for news! This blog probably won't have any new info for you guys though. Seriously though, this site is a blessing.
Surgery day!
Surgery day was stressful and long, as you'd expect. We dropped off Meg at 8:00, and honestly I wasn't expecting to see her again, I was that sure things would go wrong. I even made my partner Tim be the contact person because I was terrified of the bad news call. I  told Tim to only call if there was bad news, and around 1:00, Tim called. My heart sank and I took a deep breath and answered. Tim sounded upset and serious, and that was almost confirmation for me. Nope. Surgery went smoothly and Meg was recovering well. Men – they don't listen to you and make you stress for no reason! Relevant info – the vets also said they'd only call if there were complications that afternoon, sounds familiar.
Our only other stress for the afternoon was where Meg would be spending the night. The receptionists /vet nurses kept asking what time we'd be picking her up, but the doctors were adamant she'd be staying overnight. I wasn't keen on her staying alone at the vets overnight, but also the idea of bringing her home didn't thrill me.
Around 4:00 or 5:00 the vets called. Heart sank, again. I listened intently as Tim spoke to them, but it didn't seem like any bad news. Opposite actually – Meg was awake, tail wagging, learning to walk and even ate some chicken. She was still on an IV to manage her pain and didn't cope with them lowering the dosage, so it looked clear she'd need to stay overnight.
We went to see her around 7:15, she looked high as a kite, very sore but happy to see us. We spent about an hour with her as the vets shut up and eventually decided to take her to the 24hr vets for the night. Our vet said he'd send through her history to them. Email never showed up to the 24hr vets AND they said our vets were meant to send over her drugs, therefore we'd have to pay for them. Lucky this turned out to be false. Although it was a stressful 30 minutes at the 24hr vets waiting to check Meg in and get her back on the IV, while wondering why her history never arrived and how we got so misled about the costs of her stay there. Alls well that ends well.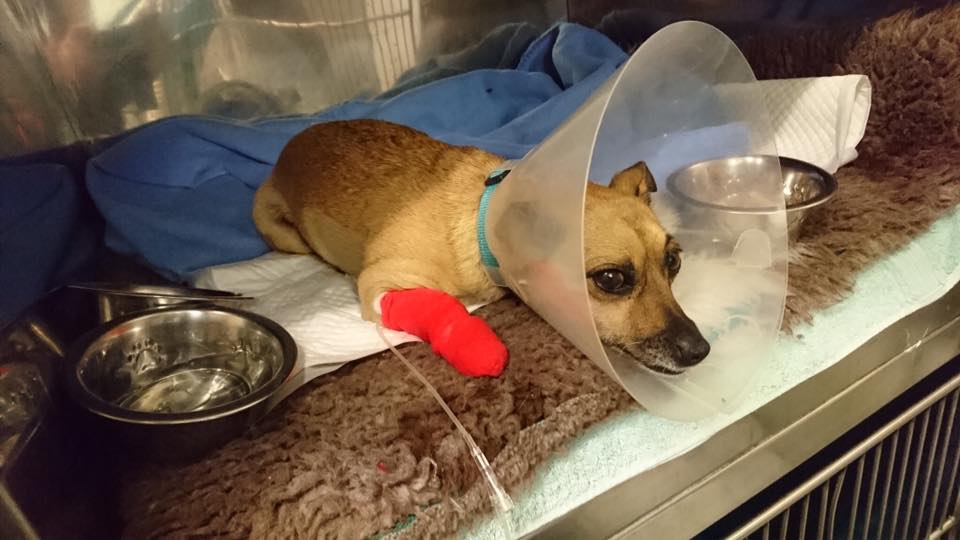 Post Op Day 1
We collected Meg from the 24hr vets in the morning, and were thrilled to hear she had a good night, and was hopping around in the morning, and even did a lil pee! Dropped her off at the regular vets, our vet was concerned that she seemed a little dehydrated and very high from all the drugs, so she'd need to spend the day there. Understandable and predictable. We would get an update in the afternoon and see if she could come home that night. Around 2:30 we called and the vet said she was good to go that evening.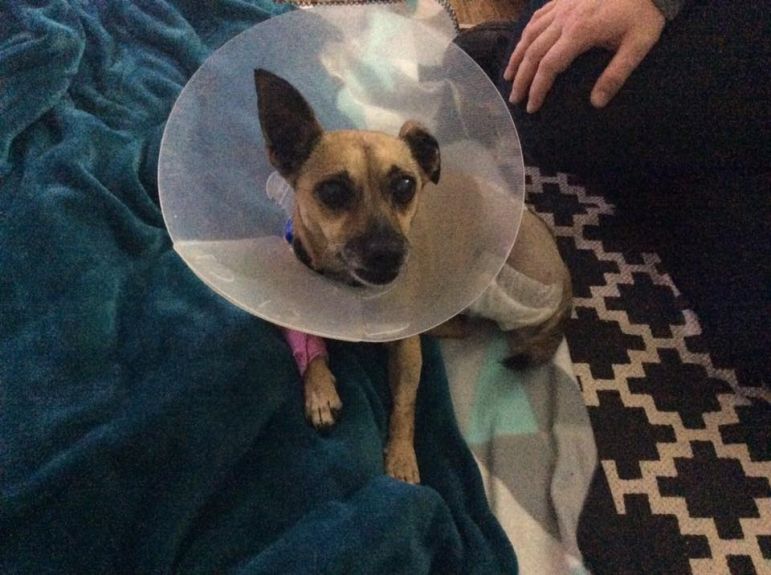 We picked her up at 6:15, she seemed very happy and a lot less miserable than the previous times we saw her. She was thrilled to be home, not so thrilled with her cone of shame. She'd bump it into things and fall over. She ate dinner right away, took her drugs and settled down for the evening without too much fuss. We took her to bed around 11:00, and she settled down with only a few whimpers. At 1:30am she woke up crying and banging her cone into the bedroom door. Megquad would've held in a pee, or at least gone on a peepad. Not Megpod. Outside we went and she did what she needed to do, while still struggling with the cone. She took about 30 minutes to go back to sleep afterwards, lots of crying and shaking, poor lil girl. She woke up about 3 or 4 more times during the night, gently crying and shaking, luckily she'd fall back to sleep quickly, which resolved the pain issue.
Post Op Day 2
Today seems like a very laid back day! Meg has been asleep all day, aside from eating breakfast. Her pain seems under control and all is well. Hopefully the hospital drugs don't wear off for another few days. The cone is off, given we are watching her like a hawk and it only seems to be upsetting her, that seems to have helped her a lot. Meanwhile, I am well and truly exhausted already – what do you mean I have uni work to catch up on?! Sleep please!
*Will update with any other day 2 developments as the day goes on!*
Afternoon updates:
The afternoon features a few phantom limb pain attacks, which was pretty startling for us! Poor girl must be in so much pain when it happens, nothing really prepares you for those yelps.
We also made a quick visit to the vets, the bandage over the wound was falling off and got replaced, the vet seemed very pleased at how Meg is progressing, and a little offended she is eating perfectly at home, but didn't want food at the vets!
We also cut her tramadol from every 8-12 hours, to 6-10 hours, hopefully that keeps her ahead of the pain!
Keep kicking goals Meggymoo, we're so proud of you!